Start your day reading an excellent version of the Holy Bible: American Standard Version. This online Bible has everything you need to read, study and learn about the Holy Scriptures.
The American Standard Version is also known as the Revised Version. It is a revision of the King James Bible and it was first released in 1901. Other names are related to this Bible such as: The American Revised Version, The American Standard Revision, The American Standard Revised Bible and the American Standard Revision.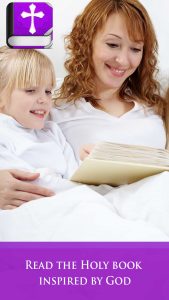 It is a very complete version of the Holy Bible read by millions of people around the world and relies in the method known as formal equivalence of word-for-word translation.
The Bible is essential for knowing the unique Word of God. It has been translated into many languages. We can find a lot of different translations into English such us the New King James Version, The King James Bible, The Common English Bible and many others.
Reading the Holy Bible gives us relief and approaches us to Our Lord.
The Holy Bible consists of the Old and the New Testament:
The Old Testament contains 39 books (Genesis, Exodus, Leviticus, Numbers, Deuteronomy, Joshua, Judges, Ruth, 1 Samuel, 2 Samuel, 1 Kings, 2 Kings , 1 Chronicles, 2 Chronicles, Ezra, Nehemiah, Esther, Job, Psalms, Proverbs, Ecclesiastes, Song of Solomon, Isaiah, Jeremiah, Lamentations, Ezekiel, Daniel, Hosea, Joel, Amos, Obadiah, Jonah, Micah, Nahum, Habakkuk, Zephaniah, Haggai, Zechariah, Malachi ) and the New Testament contains 27 books (Matthew, Mark, Luke, John, Acts, Romans, Corinthians 1 and 2, Galatians, Ephesians, Philippians, Colossians, 1 Thessalonians, 2 Thessalonians, 1 Timothy, 2 Timothy, Titus, Philemon, Hebrews, James, 1 Peter, 2 Peter, 1 John, 2 John, 3 John, Jude, Revelation)
The best app for free Bible download!