Are you looking for an easy to read English Bible?
The Bible in Basic English (BBE) is a version of the Bible in an easy and basic English. Download it now on your phone!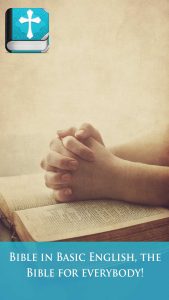 Nothing will help us grow spiritually more than the Bible. Reading the Bible is the best thing we can do for ourselves.
God is willing! God will save! God will rescue! God will restore! God will revive! God will empower! God willing and He will do it!
Study the Holy Bible with this easy-to-use app to download and carry the Holy book everywhere.
This Version is simple and easy to read. It's effective to teach the Bible to those with limited education or where English is a second language.
Enjoy the Holy Bible App containing the Old and New Testaments:
The Old Testament (Genesis, Exodus, Leviticus, Numbers, Deuteronomy, Joshua, Judges, Ruth, 1 Samuel, 2 Samuel, 1 Kings, 2 Kings, 1 Chronicles, 2 Chronicles, Ezra, Nehemiah, Esther, Job, Psalms, Proverbs, Ecclesiastes, Song of Solomon, Isaiah, Jeremiah, Lamentations, Ezekiel, Daniel, Hosea, Joel, Amos, Obadiah, Jonah, Micah, Nahum, Habakkuk, Zephaniah, Haggai, Zechariah, Malachi)
The New Testament (Matthew, Mark, Luke, John, Acts, Romans, 1 Corinthians, 2 Galatians, Ephesians, Philippians, Colossians, 1 Thessalonians, 2 Thessalonians, 1 Timothy, 2 Timothy, Titus, Philemon, Hebrews, James, 1 Peter, 2 Peter, 1 John, 2 John, 3 John, Jude, Revelation)
This Basic English version is written in everyday language, to help people to understand the Bible. Enjoy now this easy version of the Bible on your phone and read it even without Internet connection!